It's < current year >, blackweb still distributes drivers on CDs and doesn't have a website because they still think it's the 90s™
User submitted drivers and utilities for Blackweb products. All tested by the community unless otherwise stated by the download link! Feel free to post in the comments if you need help and to provide feedback. Also, as new products are released, we need the drivers submitted, so please check out the submission details at the bottom of the page. Download links below.
You can find the full index of all the drivers I mirror by clicking here.
**Version 3.1 of the Blackweb gaming driver is available by clicking here.**) I have confirmed it's compatible with the my BWA17 (AYC) but it'll likely work with others too (BWA18 series, keyboards, etc). Feel free to try it and confirm if it works with your device too and I will include it under additional listings :)
Keep in mind if no supported device is connected, it appears the driver will be running in task manager but no window will appear, not even an error message. If this happens to you, try another driver listed, otherwise I likely don't have one that will work for you, or the device you have doesn't need a driver (you only need it to configure RGB/DPI, etc).
Blackweb Gaming Mouse Driver 5 button + DPI button RGB Mouse Driver (AYA Mouse)/ Blackweb Gaming Wired Mouse


Walmart Item #30233821 Group # 6000196273995 MCN 1968416 SKU 6000196273996 UPC 81649601224Download for Windows
Download for Mac/Linux
Dependencies: python2.4 python-qt4 pyusb. Must run file ayatool_qt.py using python as root (with sudo). See here for discussion on mac support and here for github repo.Download for Mac/Linux
Mirror of github repo. Fetched via github Dec 2017.

Blackweb BWA17 (AYC) Gaming Mouse Driver


Download for Windows v3.1 (SW v2.0.9.9)
Thanks to commenter Krazy KanuckDownload for Windows v2.1
Submitted by Chris Vetti
Download for Windows v1.1 (Try if 2.1 doesn't work I dunno)Fetched via r/drivers here.
Model BWA17H0003/BWA17HO003

Blackweb Programmable Gaming Keyboard RGB


Download for Windows v2.1Download for Windows (if v2.1 doesn't work)
Fetched via r/keyboards here. Model BWA17HO004


Blackweb BWA18 Gaming mouse Driver

Download for Windows v2.1Model BWA18HO003
Buy blackweb Mechanical Gaming Keyboard from Walmart Canada. Shop for more PC Gaming Keyboards available online at Walmart.ca. Mechanical Gaming Keyboard With 7 Color LED Backlit User Reference Guide 04-1098A Introduction The Mechanical Gaming Keyboard With 7 Color LED Backlit provides tactile response and audible click for the ultimate gaming experience. Key Features and Benefits. 7 color LED backlighting and 9 different illuminated modes give you an immersive.
Blackweb Gaming Starter Kit

Download for Windows v3.1 (SW2.0.9.9)Thanks to comment by Krazy Kanuck
Submit New Drivers and Corrections
If you have purchased a new blackweb device and the driver is not listed here, but you received a disc with the driver, please submit the driver by emailing it to me at [email protected]
If it exceeds the attachment limit, feel free to upload it to a service like Google Drive or Dropbox and just provide the download link.
If a driver we already list also works with a model even if it's not listed as supported here, if a driver is listed under the wrong device, or if you have any other questions relating to submitting or listing drivers here, feel free to also send an email. I check my mail several times a day and usually respond within a few hours of receiving it.
Driver Support
For support requests relating to any of these drivers, please leave a comment below in the driver support thread. You may also contact me directly, however support will likely be limited as I didn't write these drivers nor do I own most of the hardware, I only mirror them for easy access.
Driver Support Thread via this blog post
Please enable JavaScript to view the comments powered by Disqus.
Blackweb Keyboard Software Download
Related Posts
Ducky One 2 Mini Software
Voice Changer for Discord
VMware Vs VirtualBox
Blackweb Keyboard Software. You definitely already know the significance of getting a swift and sensitive keyboard if you are into PC gaming.
You have to switch constantly in a game, change paths, fight and do a bunch of other stuff. With the assistance of the keyboard, all this is regulated. This is why the keyboards for games are different from the standard keyboards.
You can tell from the very configuration of the keyboard, whether it's a game keyboard or not. With backlit buttons, colours, etc., game keyboards are electronic and offer a more appealing appearance. If you are looking for a stable gaming keyboard, you might opt for the Blackweb Centaur Gaming Keyboard. Blackweb Keyboard Software.
The Blackweb Centaur Game Keyboard has a lot of noise going on. So we decided to take this chance to check this piece. Now let's dig into the specifics without wasting any more time.
We do what we can at ASDA to ensure that the knowledge on the goods we offer is always as reliable as possible. However the product information, additives, food guides and dietary or allergy recommendations can sometimes alter so products are improved periodically.
Blackweb Keyboard Software. As a consequence, before using or using any items, we suggest you always read the label carefully. Due to this, ASDA is unable to take blame for any inaccuracies or erroneous facts found on this website Please do not depend exclusively on the information given on this website.
Please call our helpful Customer Relations team on 0800 952 0101 if you have any concerns, or if you would like advice on any ASDA own label products. Please talk to the retailer for current details on other items.
Your constitutional protections do not affect this. This information is given only for personal use. Without the prior agreement of ASDA, it must not be copied in any manner whatsoever, nor without due acknowledgement.
Blackweb Keyboard Software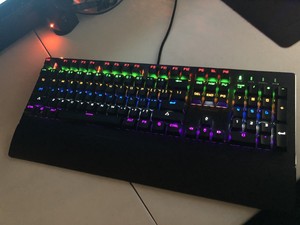 Blackweb Keyboard Software. You will drive your gaming experience to the next level with the Blackweb Centaur gaming keyboard. It comes with all the fun functionality that your gaming keyboard would like to see.
The first thing about this keyboard you'll note is the style. With an adjustable backlight colour, this black keyboard features a mechanical style. It also helps you to change the light's brightness for better visibility.
Featuring 19 anti-ghosting buttons, the keyboard allows you to play comfortably for hours. The anti-ghosting feature helps you to correctly perform your movements. It also comes with multimedia office keys alongside that.
This keyboard is built to give you a better experience while playing. This is the best offer you can find within this price range.
Features
You must review the features before purchasing a gaming keyboard. You need to be sure that there is everything you want on the keyboard. In your game, a gaming keyboard should be able to help you compete better.
Design
Blackweb Mechanical Keyboard User Manual
It has actually had a pretty appealing look, starting with the architecture. The hue of the black finish with the backlight makes the keyboard more enticing. It is possible to configure the interchangeable backlight according to your liking. The color constantly glows and dims.
The keyboard's edges are stylishly built to add a more high-end look to it.
Keys
It is a manual key with 19 anti-ghosting keys included. This helps you to quickly make all the most complicated movements. To make it comfortable for consumers to use it, the keys are appropriately spaced.
They want their keys to be fast and open to every gamer. In this situation, with this keyboard, you won't be disappointed. This keyboard is meant to raise the gaming standard.
Performance
It offers you more than you might hope for a medium-range gaming keyboard. It gives you smoother productivity with 19 anti-ghosting buttons. It will make you do faster, no matter what kind of game you are playing.
Blackweb Mechanical Keyboard Software
The keyboard is Microsoft Windows compatible. The removable backlights illuminate and dim constantly. They provide greater visibility, especially when you play with the lights off.
What people enjoy in this keyboard is the click-clack sound of the keys. It's also pretty fast and open, exactly as you would imagine. Blackweb Keyboard Software.
Blackweb Keyboard Software Features
Gaming keyboard changing color with LED lights
Create multiple lighting effects which continuously shine and dim
Five programmable G keys for 15 flexible macros through 3 selectable profiles
Includes 19 anti-ghosting keys that can be pressed at once to specifically perform complicated movements
Total core funding for the media
Includes a double-braided USB cable and applications
Convenient, ergonomic architecture
Windows XP compliant and newer operating systems
Specifications
Sincerely, the product is very smart service, clean and stable for customers. In order to complete all interface specifications, Blackweb BWA17HO004 Centaur Gaming Keyboard with Interchangeable Backlight is highly helpful. The style can be very light, trendy and attractive.
The product will satisfy all people's needs with excellent features and functions with the latest breakthrough. You will quickly get a dedicated dealer. On this platform, people will get it online and acquire it online. The owner is immensely helpful in serving and distributing the goods punctually.
With the highest quality commodity, it is a very excellent operation. The very one attribute that you have no soul felt difficulty and disappointed with the commodity to ponder. It functions exactly like the previously said commercials. Blackweb Keyboard Software.
Re-decorating was heavily weighted to take into consideration, as customer self-confidence in some firms dictates that more of their goods have already been bought and consumed with pleasure.
You will definitely have an overabundance of security transactions from one of these famous genius vendors. Once you have completed a lot of the search, there might be one more thing to look at and maybe use to complete the collection process. Suppose you may have limited the choice to as few as 3 items, but the easiest way to buy anyone is unclear.
Centaur Gaming Keyboard With Adjustable Backlight Blackweb BWA17HO004 looks fantastic in style, features and work. Really it is easy to clean and monitor the most powerful feature of this system. The design and architecture are really good, which makes it really stunning and sexy.
Most people feel drawn to buying and using it. Each function is created to satisfy the needs of individuals and its function is often practical. For easy configuration, repair, and control systems, it can be a beautiful and perfect product.
Take your games with this Blackweb Centaur Gaming Keyboard to the next level. It features a cool interface for improved visibility with an interchangeable backlight colour and customizable brightness.
Blackweb Mechanical Keyboard Color Change
There are also 19 anti-ghosting keys on the Blackweb gaming keyboard, meaning you can perform complicated movements correctly. It contains dedicated office multimedia keys and is compatible with operating systems running Microsoft Windows. Blackweb Keyboard Software Download.